70% of the world is covered by water. 2.5% of it is fresh. Only 1% is accessible to drink.
As rates of water rise, and water levels drop, "SMART" gets smarter "GREEN" gets greener and "AUTOMATIC" becomes automated and the efficiency and uniformity of the irrigation system becomes more essential than ever before.
Matching the precipitation rates for various micro climates throughout the landscape can be achieved by scheduling a system audit or have improvements implemented over time as we provide our standard services.
Whether you're paying for town/city water, or using a pump, Irri-tek can reduce costs and consumption by as much as
30-70%
with remote/cloud based solutions and flow sensing technologies.
Smart cloud based systems automatically adjust the watering duration of each irrigation zone. Local weather, rainfall and evaporation data will determine how much water is actually needed for the various parts of the landscape.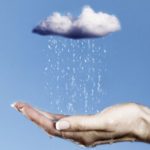 The use of a flow sensor in conjunction with a smart cloud based controller can generate email alerts to notify necessary parties of leaks and damaged components within the irrigation system.  Costly property damage and vast amounts of wasted water can now be eliminated.
Whether its a single property or multiple locations, you can have confidence that we will work hard to please and impress you and your clients alike!